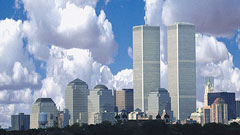 "World trade means world peace and consequently the World Trade Center buildings in New York ... had a bigger purpose than just to provide room for tenants. The World Trade Center is a living symbol of man's dedication to world peace ... beyond the compelling need to make this a monument to world peace, the World Trade Center should, because of its importance, become a representation of man's belief in humanity, his need for individual dignity, his beliefs in the cooperation of men, and through cooperation, his ability to find greatness."
— Minoru Yamasaki, World Trade Center chief architect
(from Paul Heyer. Architects on Architecture: New Directions in America. 1993)

Some of the tragic events of September 11, 2001 took place just 40 miles from my home.

I use to be able to drive just a few miles to a nearby hill, and in the distance, see the tops of the Twin Towers peeking through the trees. The sight of only towering plumes of smoke from among the treetops tore at my heart and brought me to tears that autumn day. Like millions of other Americans, September 11th has forever changed my view of what is important in my life.

This page was originally titled "Fun on the World Wide Web!" While the concept and the links on the page have not changed, the reason that they were originally chosen and placed here has become more evident and important. Take a moment from a busy day, explore new places and things; relax a little. Learn about our fellow man; celebrate our differences while embracing our similarities. And remember that in just 18 tragic minutes, on the morning of September 11, 2001, every freedom loving person on this planet became a citizen of this place that we call "New York."


I wear this band to honor the memory of Yuji Goya, a 42-year-old Japanese national, husband, father of two, and vice-president of Mizuho Capital Markets Corporation, located on the 80th floor of Two World Trade Center.

On September 11, 2001, as the North Tower of the World Trade Center burned after taking a direct hit from American Airlines Flight 11, Yuji, along with Mizuho president Takashi Kinoshita, and managers Masaru Ose and Keiji Takahashi worked to successfully evacuate the nearly 150 employees of Mizuho from the South Tower. The four perished as United Airlines Flight 175 slammed into their building at 9:03 am.

I wear this band as a constant reminder of the brothers and sisters I will never know, citizens of countries all around the world who's lives were tragically ended that September morning. People working innocently at their desks, sitting helplessly aboard hijacked airliners, or hurriedly rushing to the aid of others while risking their own well-being. All of them asking nothing more than to to live as free men and women, and make an honest living for themselves and their families.

I wear this band so that as long as I live, the lives of these people, and especially the life of Yuji Goya, will not be forgotten.

Byram Township/Lake Mohawk Local Links
"Cyberspace right in our own backyard!"
Use these links to get a better idea about what is out in our REAL backyard, beautiful Sussex County New Jersey...only 40 miles from midtown Manhattan, but seemingly right in the middle of nowhere. This is, in my opinion, one of the most beautiful places in the New York metro area. Just don't tell anyone else that, I'd hate to ruin the rest of the country's stereotypical image of "New Joisie."

LINKS OF BEAUTY
"Beauty IS MORE than skin deep!"
So what were you expecting here, tons of beautiful, naked women? My good friend Keith Brown use to always tell me, in his unmistakable Louisiana drawl, "Scott, beauty is only skin deep, but ugly goes clear to the bone!" How that has any relevance to this page, I'm not really sure. OK, since beauty is in the eye of the beholder, I see this as a collection of links to beautiful places and things. Beauteous, because they can make you laugh, make you cry, and make you think, all right. Isn't that what this whole web experience thing is all about?

LINKS TO CARS
"When you feel the NEED for SPEED!"
The difference between men and boys is the price of their toys! Or so they say. The search for speed in fast cars has always been a passion for me. It's impossible for me to put it into words, but the feeling you get from rocketing along, inches off the ground, at extreme speeds is a rush! Here's a taste of some of the finest of motoring activities on the World Wide Web.
Racetracks & Events
Online Automotive Magazines
Organizations and Sanctioning Bodies
Automotive Manufacturers
Looking for even more automotive-related listings? CLICK HERE to go to our client's page, Liquid Glass on the World Wide Web, for even more links.

LINKS TO FOOD & DRINK
"Because man cannot live by bread alone"
When you're cruisin' the internet, you're bound to get hungry and/or thirsty, right? Here's a list of places you might want to check out for a little virtual wining & dining. Just two things to remember: the keyboard & mouse are the ONLY things it is safe to drive under the influence, and there still are no restrooms on the information superhighway!
Check These Links to Vegetarianism!
I have a good friend, Lorraine, who is a strict vegetarian, and another friend, Meg (a wanna-be vegetarian) who won't look at pork chops after seeing the movie "Babe." Being a person who can appreciate a wide variety of views and lifestyles, I've put these links in for anyone who may be offended by any sites above which contain animal flesh, real or virtual.

LINKS TO MUSIC
"From soothe-the-soul to rock-'n-roll!"
Music has also always been an important part of my life, and I marvel at those who can convey feelings and emotions through the sounds of voices and instruments. R&B, Alternative, Jazz, Rock 'n Roll, whatever you want to call it, when it comes right down to it, the classification doesn't really matter, as long as it somehow speaks to your soul!

WBGO - Jazz 88.3 FM, Newark, NJ - America's flagship straight-ahead jazz station and member supported public radio station, broadcasting Jazz, Blues and World Music to the New York Metropolitan area, and world-wide via the internet, 24 hours a day!
WDHA - 105.5 Cedar Knolls, NJ - Rock radio, just down the road!
WNNJ - 103.7 Newton, NJ - Classic Rock radio, just up the road!
WNTI - 91.9 Hackettstown, NJ - World-wide Internet Radio from the voice of Centenary College.
WVOD - 99.1 The Sound - Manteo, NC. Alternative music and news on the hour for North Carolina's Outer Banks.
Yellowjackets Online - Jazz instrumentalist and "Local Heroes" of ours...(hosted on the same web presence provider as scott olson design, pair.com ).

LINKS TO SEARCH ENGINES
"Places to 'jump-off' the 'net."
OK, you want to look for something more? Here are some great places to start!
Google THE finest Internet search engine available!
WhoWhere? - A comprehensive White Page service for locating email addresses and companies on the Net. Intuitively handles misspelled or incomplete names. A nice place to start your search...
Yahoo! - Search all of Yahoo!

[ HOME ] [ ABOUT US ] [ CLIENTS ] [ PORTFOLIO ] [ LINKS ]
QUESTIONS, COMMENTS, SUGGESTIONS... e-mail to:
© 2002 scott olson design. All rights reserved.
Last updated 7/18/08